This week at
My Besties 3-D Deco Challenge blog
we have another great challenge for you!
The theme is to add Flowers and Lace to your 3-D My Besties card/project.
To participate in our challenges:
All we ask is that your My-Bestie Image has 3 or more layers, making it raised up from the surface of your Card/Project and to follow the challenge theme.
Some more info about the My Besties 3-D sheets available for you to use:
These sheets are fun and easy to use! They are all pre-colored for you, all you do is print out your sheets, cut out the pieces you wish to use and layer them with foam tape, foam dots/squares or Silicone glue.
This week i decided to share a project/album with you. I've had this die i've been wanting to use and without the coloring i had a lot more time to put this together, plus the die was easy to use.
For this project i am using Willow Wisp Fairy found
here
.
more views..i used the designer paper sheets for the framing of the accordion mini album, the accordion badge was also designer paper from the 3-D "sheets". This is the side view:
Here is the closed album:
You are going to love playing with these Decoupage sheets..click
here
for the link.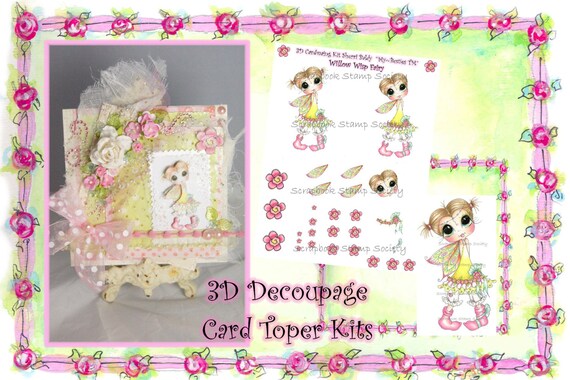 Dies i used:
Memory Box badge die, Noor/Joy Crafts Butterfly border, Tattered Lace pink frame, Go Kreate green frame, Sizzix Accordion album die.
Challenges: